BY LISA TIMPF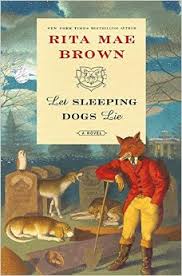 Since I enjoyed many of Brown's earlier works, including Sudden Death, I decided to check out one of her more recent offerings, a mystery entitled Let Sleeping Dogs Lie. Released in November 2014, this book is the ninth in a series that revolves around silver-haired "Sister" Jane Arnold and her foxhunting friends at the Jefferson Hunt Club.
In Let Sleeping Dogs Lie, the stage for mystery is set in the early going, when a long-dead human body is found buried in an equine graveyard in Kentucky. The stakes are raised when additional murders occur in Virginia, in Sister's home territory. The fact that Sister personally knows the more recent victims adds urgency to the need to resolve the case. Ultimately, the deductive powers of Sister and her associates help Sheriff Ben Sidell bring the culprit to justice.
Brown's humor, her deep knowledge of foxhunting and the Virginia countryside, and her ability to sketch out convincing and likeable characters make this book an enjoyable read. Brown is master of hounds and huntsman of Oak Ridge Fox Hunt Club, and her passion for hounds, horses, and even foxes shines through in her descriptions and character development.
Brown is quick to point out in each of her foxhunting mysteries that in North America, most foxhunters merely chase, and do not kill, their quarry. In fact, Sister actively supports the health of the area foxes by vaccinating fox pups and by providing kibble to supplement their diet.
Having read three of the other books in the Sister Jane series, The Tell-Tale Horse, Hounded to Death, and Fox Tracks, I've noted some commonalities. While some new characters and hunting "fixtures," or locations, are added in the various books, the likeable core of characters remains the same, including Sister, hunt staff members Shaker Crown, Betty Franklin, and Sybil Fawkes, the competent sheriff Sidell, Sister's handsome boyfriend, Gray Lorillard, and his brother Sam, and joint master of foxhounds Walter Lungrun, M.D. Sharing the limelight are the animal characters: horses, hounds, foxes, and house pets, including Sister's insufferable and convincingly depicted cat, Golliwog.
Though the foxhunting books form a series, the individual volumes don't need to be read in sequence; Brown provides any needed information as characters make their first appearance in each book. A brief description of the cast of characters, both human and animal, at the start of each book provides a helpful road map in case of confusion.
While descriptions of hunting events and the fine points of foxhound work are constants in the books, the mystery aspect revolves around different themes each time. Brown shows her research skills and broad-based knowledge by weaving in facts related to the plot line, whether about the tobacco industry, horse racing, or equine DNA. This variety, as well as the rural setting of the books, adds interest and uniqueness.
Brown does an excellent job of moving the plot along through dialogue. This includes dialogue among the animal characters, who, while they don't converse with humans, do communicate among themselves. The comments attributed to the hounds, horses, foxes, and house pets serve two purposes: conveying information to the reader, and injecting humour. Brown uses this technique judiciously, and it serves to enhance the book as opposed to being obtrusive.
While there is a lot to like, Let Sleeping Dogs Lie had one feature I was less enamoured of as a reader. There were a handful of paragraphs—around seven in all—where names seemed to be transposed or a sentence appeared to have been incompletely edited. In the larger context, this was only a slight distraction, but it did occur to some extent in each of the books.
Though it took a long time for Brown to find a publisher for her initial novel, Rubyfruit Jungle, it did eventually get published in 1973. Rubyfruit Jungle ended up selling a million copies and was one of the first books to overtly deal with lesbian themes. Those seeking the same sort of plot line won't find it in Let Sleeping Dogs Lie. Sister is described as "a woman who couldn't live without close relationships to men," and neither this book nor the other foxhunting series books I have read to date revolve around gay or lesbian characters.
Like the other books in the Sister Jane series, Let Sleeping Dogs Lie is first and foremost a mystery, placing it among the majority of Brown's fifty-plus books. In addition to the nine books in the Sister Jane series, there are twenty-three mysteries in the Mrs. Murphy series ostensibly co-authored by Brown's cat, Sneaky Pie Brown. There are also two books in Brown's relatively recent (2010) Mag Rogers/Nevada series, making a total of thirty-four mysteries.
Among Brown's nineteen remaining books are my personal favourite, Sudden Death, as well as Six of One, Rubyfruit Jungle, In Her Day, Southern Discomfort, High Hearts, and Bingo. Brown's works include two memoirs: Rita Will: Memoir of a Literary Rabble-Rouser and Animal Magnetism: My Life with Creatures Great and Small, as well as Sneaky Pie's Cookbook for Mystery Lovers.
Let Sleeping Dogs Lie follows a different sort of trail from Brown's earliest books. It depicts a different passion—foxhunting—and is set rurally in the state of Virginia, a place that has provided a her with a sense of community and belonging. If your taste in authors includes wit, the ability to draw up likeable and memorable characters, and strong descriptive abilities, then it's worth giving Let Sleeping Dogs Lie a look.
References:
Keates, Nancy. (April 9, 2010) "Writing With the Hounds: Best-Selling Author Rita Mae Brown Hunts Foxes, Farms Hard at a Virginia Spread." Retrieved from http://www.wsj.com/articles/SB10001424052702303411604575168020777634654
Sachs, Andrea. (Tuesday March 18, 2008) "Rita Mae Brown: Loves Cats, Hates Marriage." retrieved from http://content.time.com/time/arts/article/0,8599,1723482,00.html
Rita Mae Brown, Let Sleeping Dogs Lie (Ballantine Books, 2014). Hardcover, 267 pp., $31.00.
Lisa Timpf is a freelance writer who lives in Mulmur, Ontario. She has self-published a collection of creative non-fiction and poetry, titled A Trail That Twines: Reflections on Life and Nature, and has written one non-fiction book, St. George's Lawn Tennis Club: The First Hundred Years.