By Dorothy June Fraser
Maureen Bradley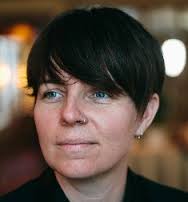 likes making narrative film, because it's difficult.
Her history in film and video began with herself; she speaks about overcoming the gender barriers present in media at the time through teaching herself. Like many of us who aspire to learn the technological side of arts production, Bradley tossed the proverbial manual in favour of learning through experiential process, a method many queer and feminist artists have adopted in film and video.
After earning her BFA in Media Studies from Concordia University, the activism happening during the "scrum" of the AIDS epidemic in the late eighties inspired Bradley to become a video artist. Although early influences include art groups Gran Fury and ACT UP, Bradley no longer makes what she refers to as "earnest" activist videos, but concentrates on the narrative:
"It's really difficult," she stated during our conversation.
Citing the divide between contemporary art and narrative film in Hollywood, Bradley works to bridge the gap, or at least, balance the two, aware of the problems she creates for herself in doing this. It was a theory-driven interest in video art that got her started in film, but recently her inspiration has been activated through a great respect for storytelling and aesthetic challenges of producing narrative film.
Her new work, Two 4 One, recently awarded a Telefilm micro-budget grant, is a narrative venture that brings a transgender character into central view. This project will tackle issues near and dear to a wide audience–the desire for family, broken and mended relationships, unexpected pregnancy, but the story comes at these issues from a queer perspective. The lead character in Bradley's film is a trans man who finds himself unexpectedly pregnant.
The focus on a transgender character is now gaining cultural capital in Canadian media, which is problematic in and of itself. When Bradley heard an executive marvel at the "zeitgeist" of trans issues, she was unnerved, but not entirely surprised. This kind of sentiment is almost an erasure within itself of continuing struggles for trans acceptance in mainstream culture. As if being trans is trendy, as if it carries weight right now and was unimportant in the past and may not remain important or powerful in the future. We had a moment of slack-jawed solidarity sitting in her office as she told me this anecdote. It's 2013, right?
Bradley's new project has been in her mind for some time now, and she's particularly glad that she didn't "hand off the story to someone else," because she believes in representation beyond this queer moment in time. The original idea came to her when her partner was reading a book about lesbian conception, The Essential Guide to Lesbian Conception, Pregnancy and Birth penned by Kim Toevs and Stephanie Brill, cofounders of Maia Midwifery and Preconception Services in Berkeley, California. The book originally had included a chapter on transgender pregnancies, but the content was refused by the publisher. In this scenario we see many elements that frame queer lives, including the blockades that become so definitive of the pursuit of family, even in the contemporary era.
There is a certain amount of blood, sweat and tear production that has gone into Two 4 One, and the preciousness of Bradley's story was clear as I interviewed her. We discussed that unwillingness that one encounters when handing off queer stories, the worry around respectful discourse that plagues queer artists. Bradley's personal connection to the work and her respect of trans people is clear as she stated to me that in the script, she didn't even want to show the lead character visibly pregnant, because it would be so disrespectful, to his body, gender identity and state of being.
Without revealing too much (oooh and I want to!), this story takes some surprising turns and in the end, the characters get what they want, albeit in a roundabout manner. Bradley's foray into this subject matter is challenging, and the portrayal of trans characters on screen with respect is paramount. Bradley's dedication to the burden of queer representation stems from her days learning, cultivating a practice, Doing It (Her)self. This is echoed in her indie, anti-mainstream media proclamation that she offers to young (earnest?) queer artists that question representations of queers in media:
"I'm here, we exist, fuck you, stop controlling everything!!"
Her own vision and strong feelings about the mainstream narratives and portrayals of queers on screen has coloured her production: the coming-out stories and the first-time sex scene were tired fifteen years ago. Bradley wants to move away from that moment. Her ambition with narrative film steers clear of the worn-out sexual awakening in favour of anti-romantic, anti-sex films that specifically problematize queer sex. However, Two 4 One seems to be walking the line, proposing the possibility of romance but complicating it. This further develops the possibility of real-life representations of queers in cinema and media. As a filmmaker, Bradley has embraced a DIY methodology that displaces control, removes the burden of queer representation from mainstream media control. She offers that maybe, if the queer community could acquire more of a sense of entitlement, we could be more represented on screen. This kind of entitlement, I believe, can only exist when there is more widespread acceptance of queers and the images of queers on screen, and off.
We are a media-consuming and buying community and we can deserve more variety of representation. But beyond encouraging queer entitlement, Bradley's energetic and hands-on approach to queer stories that respects the spectrum of queer experiences will open the door beyond the coming-out cliché and one-dimensional representations of characters in our community.