Gwen Benaway
my chances dissolve
like ice flows on the river.
everyone is already found,
I'm the only girl left.
I watch them cross streets,
move like sparrows home
trail voices across the city
to cornerstores at 4 am,
I waited too long to be,
I can give her nothing
she wants or needs,
just grief and hormones,
a new life in an old death,
a different way to lose.
now she's a pariah,
half a girl.
there's no excuse,
a girl waits soft in me
I can't save her
before fire makes her
ashes and embers,
a last whisper of light
before the dark comes
to wipe us clean.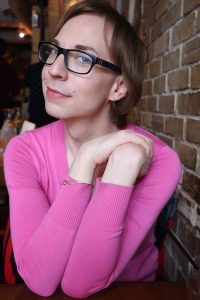 Gwen Benaway is of Anishinaabe and Métis descent. Her first collection of poetry, Ceremonies for the Dead, was published in 2013 and her second collection of poetry, Passage, was released in 2016 from Kegedonce Press. Her third collection of poetry, What I Want Is Not What I Hope For, is forthcoming from Bookthug in 2018. An emerging Two-Spirited Trans poet, she has been described as the spiritual love child of Thomson Highway and Anne Sexton. In 2015, she was the recipient of the inaugural Speaker's Award for a Young Author and in 2016 she received a Dayne Ogilvie Honour of Distinction for Emerging Queer Authors from the Writer's Trust of Canada. Her work has been published and anthologized internationally. She and her many vintage dresses can be found on Instagram and Twitter.