In summer the grass turned yellow & long,
the light grew its leaves over my arm,
we kept plants in the classroom, & once,
a bunny rabbit. My mother said
to bring it home, & there
it stayed, till autumn fell
upon our faces like the blood-salt
of obligation. I & my sister
wandered the river, where water & stone
anklets slowed
our steps. My father in his other realm
ordered us sea monkeys. We kept
them in a plastic world,
where they dried up despite the water,
floated to the surface, then finally
returned to sea through the toilet,
an ending not as things should be.
I dried up, too, as I grew older,
lost my raspberry
sundress & the green
gumption of a daughter of Jove
—a minor one, not a heroine.
In the fine-toothed mouths
of my torn seams, daisies shuddered, heads
propellered in the breeze
as they lifted off, loved so truly
by the wind that wanted nothing
to do with my pleats.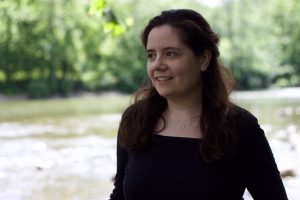 Annick MacAskill is the author of No Meeting Without Body (Gaspereau Press, 2018), which was longlisted for the Gerald Lampert Memorial Award and shortlisted for the JM Abraham Award, and Murmurations (Gaspereau Press, 2020). She lives and writes in Kjipuktuk (Halifax) on the traditional and unceded territory of the Mi'kmaq.