Nolan Natasha Pike
the word carries more in its belly than I can make you understand.
that's why I want to talk about it.
it's not just that it means one thing written in heavy books
from the university press and another in your mouth
as an answer and another on the stall door and another
hurled from his car on that Saturday in the spring,
on posters that grip telephone poles promising a good party—
it is something that argues with its own construction.
that takes issue with the sentences of this poem. something restless
and glistening and grimy.
in that bar on queen st, words and little pictures
etched by greasy fingers in the red plastic coating
on the candles. drawings, obscene
and tender decorating the dark tables.
flickering into the establishment turned
home. the living room of our twenties and thirties.
we will dance and be sick,
sweat and stumble into each other's vacancies.
the way our bathrooms feel dirty is different
than the bars with the big screen TVs—soccer piss
and sweat is not the same.
does this recital filter down to our bodily fluids,
or is there some smoke and mirrors that causes his hands,
but not his, to feel that way on my hips?
I am asking this sincerely.
does the air only feel this way
because of some lesson in breathing?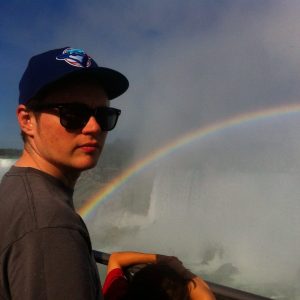 Nolan Natasha Pike is a queer and trans writer living in Nova Scotia, Canada. His poems have appeared in literary journals including: The Puritan, Event, Grain, Prairie Fire, Canthius, Poetry Is Dead, The Stinging Fly and Plenitude. He has been a finalist in the Geist postcard contest, Room magazine's poetry contest, the Atlantic Writing Competition, the Thomas Morton prize for fiction and the CBC poetry prize. His first full-length poetry collection will be launched in 2019 with Invisible Publishing.