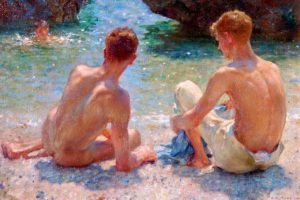 On the night of a restless saucer moon,
as the budding surfs jitterbug
and the cold sleeps inside
the toothy groove of your back,
I wind my wet linen around your neck
like a corsair's love noose, make it loose
as the meaning behind the white honey
frothing inside your open mouth,
blue lips twitching
from the slow unstitching
of a shame rooted from
sticky hands on sunday boys,
muffin cheeks bloating from
the heavenly glut of milky flesh.
It is on the shore, in a sculptor's gallery,
where I admire the great gyzym fountain.
It is on the shore, in the boat of August Blue,
where I fish for two little deaths.
It is on the shore, in a king's sand castle,
where I harvest crab shells
in the shape of vulnerability.
It is on the shore, in a locust nest,
where I finally bed into the skin
I had wrought and kneaded.
It is on the shore
where you call yourself a starving god
and I worship all your soft aches.
Photo credit: "The Critics," Leamington Spa Art Gallery & Museum
Gen Ansong is a Ghanaian-American writer from Chicago, IL. She is currently completing a BA in Creative Writing at the University of Illinois Urbana-Champaign.